Why, How, What: In all aspects of life.
May 30, 2017

Posted by:

Kim

Category:

Interviews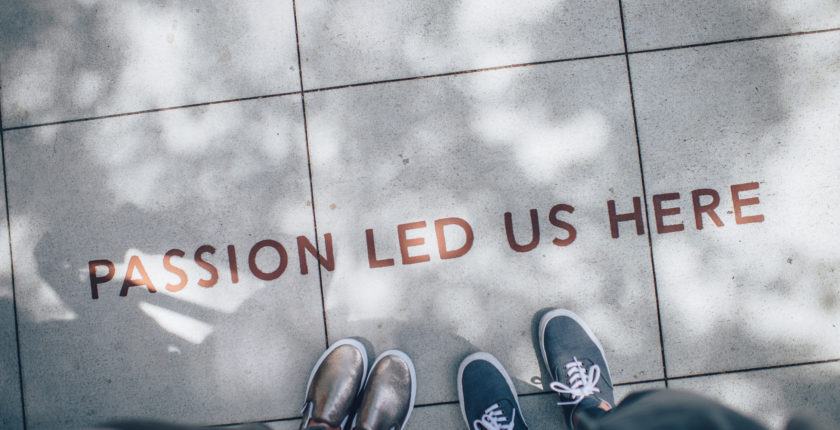 Do you know why you do what you do? Do you know why you get your family out of bed every single day and go about your combined routine of school, work, sports, and whatever else it is that you do? Far too many people spend their entire lives unable to provide a convincing answer to that question. If you think about the precious number of days we have to enjoy life on this beautiful planet, that's a slightly unnerving thought.
In his 2009 TED Talk "How Great Leaders Inspire Action," Simon Sinek abruptly brought the idea of Starting With Why to the attention of, well, the world. Of course certain people were already naturally living life (and leading businesses) this way, but after years of research and analysis, Simon was one of the first to get the theory behind it onto paper and into the ears of millions. His approach focuses on how leaders and their businesses can better connect with their audiences and customers by Starting With Why – because as he so powerfully shows us with plenty of proof, "People don't buy what you do, they buy why you do it." Simon's use of The Golden Circle (see diagram) to emphasize his point highlights how impactful leaders are able to inspire action instead of manipulating people to act.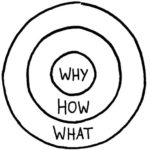 I'm going to take the above one step further and bring it all back to your life.
What do I mean by that? It's simple. If we as individuals have a deep understanding of the 'why' behind our lives, then we will have a much easier time finding the 'why' behind our education, career and/or business. After all, aren't we all striving to live a life with purpose? With an aligned understanding of your 'why' across all aspects of your existence, you'll have a greater chance at achieving that.
To give you a real-life example of what this theory might look like in practice, I'm going to use my amazing life partner, Andrew Hall, as inspiration. He co-founded a non-profit called Mealshare and in my eyes, his 'why' is almost perfectly aligned in life, business, and play. To help you visualize it, I've broken out my analysis of him in the tables below.
SECTION 1: WHY
| | |
| --- | --- |
| ANDREW'S LIFE WHY | ANDREW'S BUSINESS WHY |
| He exists to make a positive impact in the world and add value to as many lives as he possibly can. | Mealshare exists to create a world where it's easier to share with those in need, and every child and youth is fed as a result. |
It's easy to see here that Andrew's 'Life Why' is being met by the 'Business Why' behind Mealshare, the company he co-founded and continues to run.
SECTION 2: HOW
| | |
| --- | --- |
| ANDREW'S LIFE HOW | ANDREW'S BUSINESS HOW |
| Find an avenue to make impact daily and devote to it with passion. | Operating in a buy-one-give-one model, Mealshare partners with restaurants and charities to turn dining out into helping out. |
Before Mealshare, Andrew was lucky enough to be working for a top consulting firm – but no matter how lucky he might have been, he did not and could not feel 100% fulfilled with his day-to-day work. In order to be happy, he knew he needed to find an avenue that would support his desire to make a positive impact in the world. With a simple idea, Mealshare quickly became that avenue.
SECTION 3: WHAT
| | |
| --- | --- |
| ANDREW'S LIFE WHAT | ANDREW'S BUSINESS WHAT |
| Andrew co-runs Mealshare. | Mealshare contributes to our world's growing hunger problem by feeding youth in need. |
Well, would you look at that? A conscious realignment of Andrew's WHAT to better fulfill his WHY stimulated the spark behind Mealshare, an organization that to this date has shared over 1.2 million meals with youth in need.
It seems straightforward when you see it all neatly broken out like this in tables, however most of us know that that is not always the case. Figuring out where you fit into this world (and feel most happy) can be a tricky journey, but as with anything – the younger you start practicing, the easier it starts to become.
Now I'm going to take this even one more step further and bring it all back to how you can help others find their own purpose at an early stage in life.
As a parent or educator, below is a list of exercises that you can walk through with your children or students (and yourself!) to get them to start thinking about the 'why' behind their lives.
Start with Finding Your Why. Once you have a deep understanding of that, you can begin to figure out How you're going to get to your What.
List everything you love to do that makes you feel alive. Think hard about why you love to do these things. And don't hold back.
List everything you currently do on a regular basis in life, school and/or work. Be as genuine and authentic as possible in this list. You should be writing down everything, even the negatives that you're not particularly proud of. There are no wrong answers here!
Compare these lists. If the things you currently do don't line up with what you love to do, it might be time to re-evaluate how you spend your time. What do you wish you did more of in pursuit of your ideal life?
Write down your innate strengths. This is a really good place to start when thinking about your 'why.' With a focus on your strengths, how can you provide the most value to those around you? What are you naturally good at doing? Is there anything you can do right now that would allow you to affect positive change in both other people's lives and your own?
Ask yourself: At the end of your road, how will you look back and measure the life you lived? Take a good long think with this one. Figuring out what's important to you in achieving a life well lived gives you a sense of alignment and guided direction. Write it down, think about it every single day, and fight like hell to live a life with purpose.
Let your findings sit with you for a bit. Don't over think, just feel it out.
After all of this, the next step to take with your children, students, or yourself involves setting SMART goals that are well aligned with the findings from above. This is a big task in itself – so let's save that one for next week and we'll walk through some helpful classroom and/or at-home exercises together!
Until then,
Shelby
As co-founder of Boldly and a long-time supporter of Startup Skool, Shelby is a lover of entrepreneurship & making an impact. Subscribe to our newsletter and follow along on her journey as she explores the fast-paced world of start-ups through her articles and general musings.